By: Walter Kozlowski, Principal Architect, Cloud Infrastructure Services, Telstra; Anuket TSC Co-Chair
Elbrus, the latest version of the LFN Anuket reference model, specifications, implementations and conformance tests for network cloud infrastructure was released to the public on January 29 this year. Keeping in mind that Anuket is a Linux Foundation Networking project launched in January this year out of a merger of CNTT (Cloud iNfrastructure Telco Taskforce) with OPNFV (Open Platform for Network Functions Virtualization), one has to appreciate this community effort to deliver on time such a large multi-project release. Elbrus builds upon the CNTT Baraque release delivered in September 2020, of which the reference model component was published as a GSMA permanent reference document NG.126.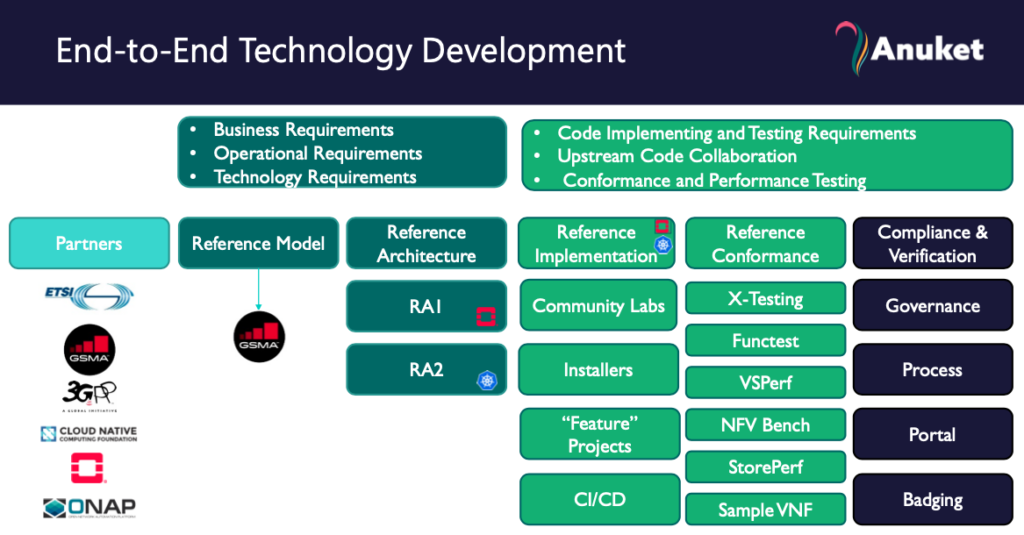 So, what is new in Elbrus?
To start with, it provides numerous specification and implementation updates in a constant battle to keep up with the technology upgrades. Then, more test cases have been added to the Reference Compliance projects, making this important for the industry program even more comprehensive.
However, I believe the primary significance of the Elbrus release is its decisive move towards the cloud native paradigm – which is far from being trivial or even, in some aspects, understood in the context of the complex world of telecommunications. Hence, in Elbrus we started new chapters on hybrid, multi-cloud models covering a wide range of use cases from the Data Center to the Edge, from Private to Public Cloud, from enterprise application workloads to 5G, remembering that containerization and cloud native principals are the real drivers behind the evolution of these use cases.
The Anuket community of telco operators and their technology suppliers is very sensitive to the real-life challenges of the industry. Hence, a lot of new content was devoted to extending narratives around topics like operations, automation, security, hardware management, hardware acceleration, multi-networking in the containerized network infrastructure, and network programmability. To tackle such a wide range of complex topics, we made sure that top industry experts participated in the creation of Elbrus. However, we also made many efforts to reach out to a wider community, initializing or strengthening Anuket's relationship with other LFN projects as well as with several industry organizations like GSMA, ETSI, CNCF, Open Infrastructure Foundation, O-RAN Alliance, and others.
Results of these new topics started in Elbrus will be undoubtedly visible in the next Anuket release expected around the middle of 2021. In the meantime, see the details for Elbrus release here.